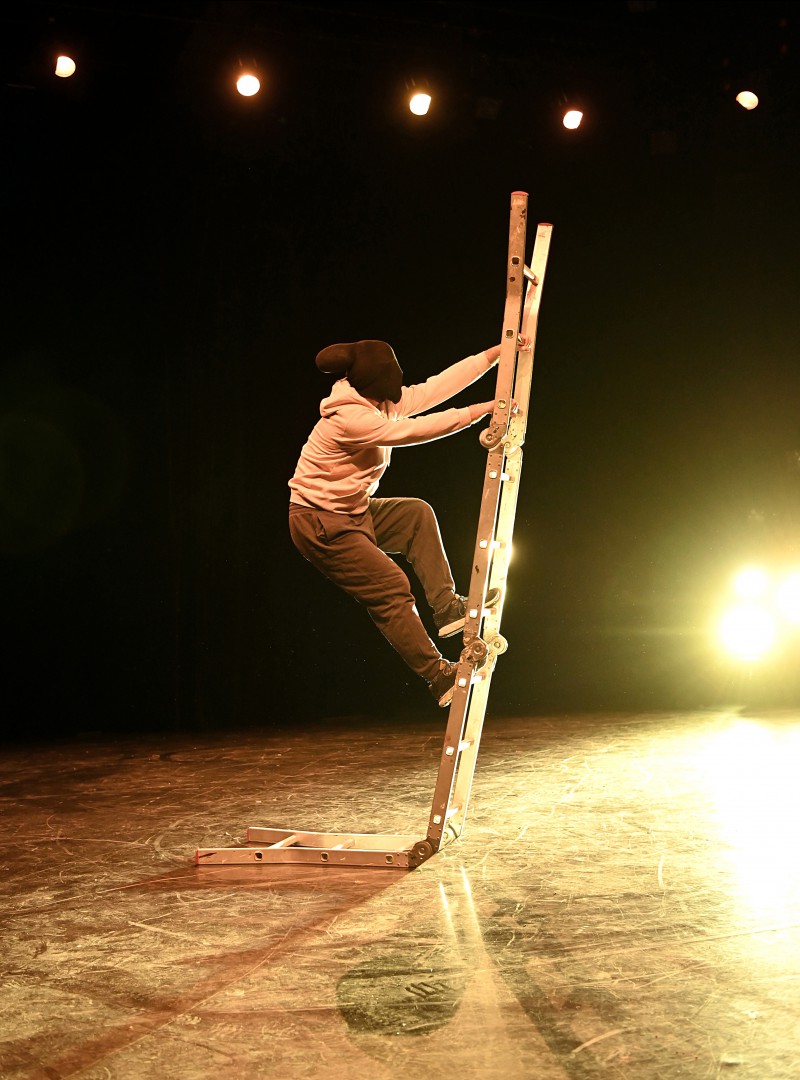 David Brandstätter descends from the sky - or rather from the ceiling - and lands on stage. He is wearing a mask, a shadow mask, reminiscent of Mickey Mouse, symbol of a troubled capitalism. He is accompanied by a ladder that folds and unfolds, like a path of life - sometimes challenging, sometimes supporting.
And with CouRage and sometimes help from the audience, he experiments, tries, finds and questions.
The music, born from the sound of the ladder and composed by David Brandstätter, creates and fosters collective energy and imagination.
Projekt, Choreographie, Music, Texte David Brandstätter || Dramaturgie Malgven Gerbes || Künstlerischer Dialogpartner Thiago Granato || Lichtdesign Ruth Waldeyer || Light Max Sautai ||Sound Nicolas Tinel || Photographie Bernard Hébert, ClaudeHilde || Graphikdesign Yoann Bertrandy || Produktionsmanagement Alix Pellet || Produktion shifts – art in movement || Koproduktion Le Phare, CCN du Havre Normandie || "Gefördert durch die Beauftragte der Bundesregierung für Kultur und Medien im Programm NEUSTART KULTUR, Hilfsprogramm DIS-TANZEN des Dachverband Tanz Deutschland." || Künstlerische Residenzen & Proben Le Phare, CCN du Havre Normandie & fabrik Potsdam || mit der Unterstützung von** dem französischem Ministère de la Culture / Drac de Normandie, Région Normandie, départment de l'Eure.
Le Phare, Centre chorégraphique national du Havre Normandie within the frame of festival Pharenheit